Engineering R&D Landscape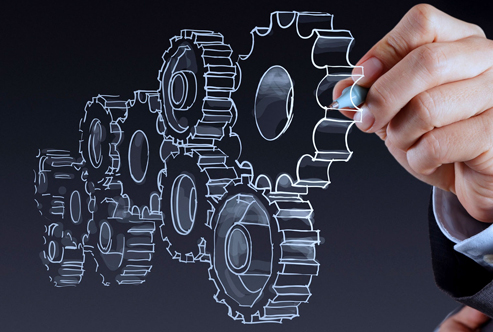 India is fast emerging as the Engineering and Design hub for various vertical domains of Automobiles, Aerospace, Consumer electronics, Machinery, Semiconductor, Telecom, Construction, Industrial automation, Medical devices, Energy and Computing. It is home to over 1100+ companies, who provide scalable and domain rich talent pool and offer cutting edge solutions reducing the cycle time for new product creation, design agility, after market capabilities etc.
The ER&D eco-system in the country include Manufacturing Organization having design capabilities, Global Corporations that have their design centres in India, Engineering Service providers from India, Engineering and Defence Public Sector Units, SMEs and Academia.
With a view to strengthen the momentum of ER&D activities and aspirations of ER&D providers, nasscom has created a separate council to focus on this segment. Council Members include representatives from diverse vertical segments including engineering service providers, global in house centres, manufacturing organizations and SMEs in the space.
Revenue- > $24 Billion USD

Global Sourcing Share 28%

Employment 5,15,000

ER&D Companies 1500+

Verticals 11+
Vision
Catalyse the vision of Engineered in India and help India emerge as the leading destination for Digital Engineering solutions
Chair

Karthikeyan Natarajan

Executive Director & COO,

Cyient

Immediate Past Chair

Ajay Prabhu

President, Technology Services

Quest Global

Madhumit Dixit

SVP & Head, ERS

HCL Technologies

Manas Das

Sr Director, India Business Operations

Intel

Ravishankar Rao

Director – Strategy and Operations, Engineering India Site

Cisco

Reguraman Ayyaswamy

SVP & Head, IoT, Engineering and Industrial Services

Tata Consultancy Services

RK Shenoy

SVP, Mobility Engineering

Bosch

Savyasachi Srinivas

Executive Director

Collins Aerospace

Ashish Khushu

Chief Technology Officer

L&T Technology Services

Sumit Sood

Group VP & Head of APAC

Global Logic

Supria Dhanda

Business Leader

Western Digital

Narasimham RV

Senior VP & Global Head, Integrated Engineering Solutions

Tech Mahindra

Chandra Reddy

EVP & MD India GEC

Capgemini Engineering

Dileep Mangsuli

Head of Development Centre

Siemens Healthineers

Kalavathi GV

Head- Philips Innovation Campus- Bangalore, India

Philips

GNV Subba Rao

 Global Head, Quality & Operations, Industrial Automation Business Area

ABB
Engage and
Evangelize

Design led Manufacturing as the key imperative for Make in India program.
Special Interest Groups for the growth verticals of Auto, Aero, C&HE, Telecom and Semiconductor to address the common challenges faced.
Research on new market and emerging opportunities and use case on the innovative capacity built by Engineering and Design sector from India for destination for the world beyond scalable talent.

Outreach
 

Nasscom Engineering summit
Nasscom SIG programs

Capability
Building

Building content and curriculum for Engineering talent.
Centre of Excellence for Internet of Things (IoT).
Mentorship initiative for SMEs.
Build a capability hub in India for domains like Product Engineering, Embedded software, Engineering Analytics, Digital Engineering.

Market
Access

Explore the market in APAC and Europe and branding Indian engineering capabilities
Enterprise connect to develop an Eco system for the overall growth of the emerging and growth verticals
Expanding the domestic market through focus on indigenization and self-reliance effort for make in India program

Supportive Policies

Enable the ease of doing business wrt SEZ policies, Defense offsets programs
Taxation issues on Transfer pricing , Service tax related matters
Enable Government policies to make India as the R&D hub. Some of the key thrust areas include - providing inputs on defence offsets, IOT Policy, Design led manufacturing etc.
CoE - IoT

An initiative with DeiTY and ERNET and nasscom on a PPP model, with nasscom and ERNET being Program Implementation Partner.
Purpose of expanding the product, service opportunities and maximizing solution stack across value chain to enable India to leapfrog in IoT space.
Be a market player for Design, prototype to realizing product by harnessing creative capability of Academia, Industry, start-ups and entrepreneurs.

Talent and Skill Development

Address industry requirements of skilled manpower.
Formulate curriculum relevant to Industry talent skill requirements.
Enable onboarding of students trained in the curriculum via campus recruitments.
Assess student acumen and intervene to update curriculum.

Defence

Showcase capability built by engineering Industry in meeting defence requirement.
Provide a platform for collaboration between DPSU and Engineering Industry in reducing defence equipment imports.
Provide fillip to indigenization efforts.