Technology Sector in India 2023 : Strategic Review
Overview
This year's nasscom's Strategic Review report focuses on the theme "Priming for a 'No Normal' Future" and explores details about the Indian tech industry's resilience and growth in the wake of global uncertainty and how the industry strengthened its position as a trusted global technology leader over the past two years.
The report analyses in detail the major trends, segments and strategies that defined and further strengthened the fundamentals of the technology industry in FY2023. Key emerging tech bets which are at an inflection point of commercial adoption are also explored based on investment and IP focus. The report has crisp fact sheets on the industry's value proposition that hinges upon a diverse ecosystem, young and high-quality talent pool, excellent physical and digital infrastructure, vibrant domestic market, and strong Government support.
However, the VUCA world continues to exist, and we are witness to a "No Normal Future". Therefore, while enterprises may continue to focus on digital transformation, cost takeout and optimization requirements are also in demand given the macro environment. The final chapter discusses in details, the playbook to thrive in a "No Normal" future.
Key Findings
CY2022 – A Year of Mixed Outcomes

VUCA world: The disruptions bought on by the COVID-19 pandemic continued through CY2022. The new variant, BF.7, impacted most Asian economies including Japan and China. With the ongoing disruption of supply chain (especially with respect to semiconductors), both governments and enterprises are re-thinking their supply chain strategy. The surprising invasion of Ukraine by Russia in early CY2022 impacted food & energy security worldwide, leading to higher inflation. CY2022 also saw ongoing concerns around recession as the global economies saw slower growth. However, the growth of emerging economies has been more resilient, with India leading the economic revival at a rate much higher than the rest of the world.

Technology, the focal point for businesses: Among businesses, the Technology industry was the silver lining as enterprises reshaped and accelerated their digital transformation agenda, and as a result, sourcing, and talent strategies for CY2023. Increasingly, enterprises, including traditional enterprises, are leaning on technology for scaling automation while humanising UX, streamlining supply chain, enhancing cyber resilience, and delivering their sustainability goals towards becoming purpose-driven businesses.

Global technology trends 2022: In CY2022, the total global technology spend stood at $4.39 Tn, a slight decline of -0.2% over CY2021, driven by lower consumer spending on devices. Enterprise software and IT services crossed the $2 Tn mark, a growth of 4.5% y-o-y in CY2022.

Indian Technology Industry Overview - FY2023E

While FY2022 was a year of milestones and resurgence-an outlier for the Indian technology industry, FY2023 has been the year of continued revenue growth with a focus on strengthening industry fundamentals and building on trust and competencies. The volatile global economic scenario and impending recession continues to support the demand for technology adoption and digital acceleration. Consequently, technology continues to be a strategic imperative that is a critical component of business innovation and transformation, as well as a source of improving operational and cost efficiencies.

In FY2023, India's technology industry revenue including hardware is estimated to cross $245 Bn (8.4% y-o-y growth), an addition of $19 Bn over last year. Exports, at $194 Bn, are expected to grow at 9.4% in reported currency terms, and 11.4% in constant currency terms. Domestic technology sector is expected to reach $51 Bn, growing at 4.9% y-o-y. In rupee terms, domestic tech revenues is expecting a 13% y-o-y growth on the back of continued investments by enterprise and the government.

The industry continues to be a net hirer, adding nearly 3 lakh employees, taking the total employee base to ~5.4 Mn (5.7% y-o-y growth), strengthening its position as the 'Digital Talent Nation' for the world.

India's Value Proposition: A Strong Economy and a Diverse Tech Ecosystem

India, currently holding the prestigious Presidency of G20 nations, has grown from being the tenth largest economy ten years ago to the fifth largest today. India has been the fastest growing major economy for the third year in a row—poised for further growth, driven strongly by, among other factors, a robust and diverse technology ecosystem. Diverse and inclusive new-age skilled talent pool with strong entrepreneurial mindset people first innovation, responsible & ethical tech & governance built on trust, commitment to Environmental, Social & Governance (ESG) goals, & Corporate Social Responsibility (CSR), form the cornerstones of this vibrant ecosystem.

Cost competitiveness and efficiencies, stable and trusted Government consistently building a conducive business environment and infrastructure through reforms and policies, along with the largest and youngest working population and consumer market, makes the industry's foundation even stronger. India's inherent leadership skills have ensured Indian origin leaders occupy a seat at the table in global organizations, fronting global charters across various verticals.

2023-24 Annual Outlook - Towards a 'No Normal' Future

CY2023 has started with hopes of moderation – with worldwide growth expected at 2.9%. Even as the global economic climate will continue to remain uncertain, volatility and business resilience will co-exist and that will define the 'No Normal' world that we embark on. Globally, enterprises are likely to see headwinds - demand contraction in some markets, and this uncertainty may result in delayed decision-making.

Nasscom's Annual CXO Outlook Survey 2023, indicates that while enterprises digital transformation remains core strategic priority for 2023, cost takeout and optimization requirements are also in demand given the macro environment. Cybersecurity, cloud, AI and analytics continue to be the main focus but with more integrated use cases and higher value realization. Hyper-automation and virtual experiences are new themes, driving optimization and new business growth. End-user enterprises are demanding greater domain specialization as also purpose-driven partnerships from their technology partners.

As such, for technology providers, CY2023 is expected to be a year of rationalization (improving utilization & lower attrition), as they consolidate and strengthen current expertise, while making early moves into new business opportunities. The growth areas of technology segments will continue to focus on digital CX, digitization, cloudification, building SaaS-enabled products, cybersecurity and platformization - digital components that are increasingly being built into all deals, partnerships and M&As. An underlying theme that will emerge stronger is 'Focus on Quality Talent' - strengthening capabilities in niche and pure tech areas like cloud, AI/ML/NLP through reskilling/upskilling, improved and increased thrust on employee engagement, culture, health and wellness.

Over this Techade, the playbook to thrive in a 'No Normal' future would converge around four key themes:

Demand shifts, geopolitical dynamics, tech regulation – change is the only constant.
Service providers to digital transformation partners – the big shift
Trust, resilience, inclusive talent, and sustainability – re-defining rules of competition
Digital mastery and innovation – the key differentiators

Enterprises that adapt quickly and constantly are the ones that will lead in a "No Normal Future".
Thought Leadership
Know Why you Should Read nasscom's Annual Strategic Review Report for 2023: The One-stop source for the most credible information on the tech sector since over 3 decades!
In a no-normal environment that we are living in today, the industry focus continues to be on investing for growth. Propelled by forward-looking policies, strong governance, talent and digital trust to ensure accessibility, privacy, security, and reliability, the Tech Industry in India is on track to accelerate growth to $500 bn by 2030.
---

Download the Report

Press Release
---
Download The Report
To purchase the report, please sign in with your credentials for nascom.in.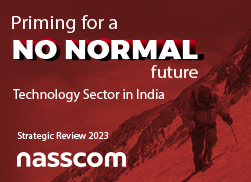 Regular Price : ₹ 40,000 ₹ 10,000 plus taxes
Buy Now
Member Price : ₹ 20,000 ₹ 10,000 plus taxes
(Limited time offer of 75% discount for all till 31st Mar)